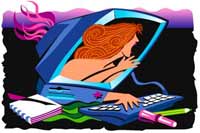 Check Here for the
Latest Project Info and Site Updates
The CWLU Herstory Website Project was organized to archive and share the history of the Chicago Women's Liberation Union. For more information about us check our Project Mission Statement and Project Contributor's page below.

Site Updates-Check here for the latest details.

Project News -Find out what we've been up to lately. Get the latest info on former CWLUers and friends.



Project Contributors-Meet the people who are making this possible. Some are former CWLUers. Some are not. But all of us are committed to documenting the history of the women's liberation movement.



Project Mission Statement- Read about our goals, hopes and dreams here.


Tech Notes - Discover what hardware and software went into the making of this site and something about our workflow.