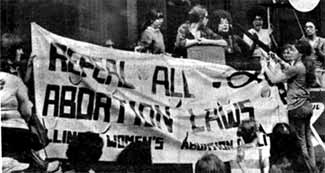 Articles about Jane
The Hyde Park Voices series on Jane: A good overview of Jane from an alternative newspaper(1973). The series goes into great detail about how Jane organized their abortion service and the many personal, moral and medical challenges they faced.

Part I - An overview of the Abortion Counseling Service and how it began.

Part II-The Abortion Counseling Service joins with the CWLU and organizes an abortion underground of its own.

Part III- Finding a solution to the problem of long term pregnancies leads the Service into doing actual medical procedures.

Part IV- The Service has a close brush with tragedy and performs its first unassisted D&C.

Part V - Doing more of the abortions themselves leads to new challenges for the Service.

Part VI- The Service learns how to obtain medical instruments and drugs while trying to avoid police attention.

The Bust: In May of 1972 seven Jane members were arrested for performing illegal abortions.The following are newspaper accounts from the time.



Nab 7 in Abortion Raid (from the Chicago Daily News May 4, 1972)



Lib Fund Set to Aid 7 Held in Abortion (from a Chicago newspaper. Exact source unknown- May 1972)



Abortion 7 Case Sent to Grand Jury (from the Hyde Park Herald-August 16, 1972)



Grand Jury Hears Abortion Case This Month (from the Hyde Park Herald-September 6, 1972)

Modern Articles on the Abortion Counseling Service


Remembering Ruth Surgal by Estelle Carol. A brief statement read by Herstory Project Coordinator Estelle Carol at Ruth's funeral services.(September 2004)


Ruth Surgal Obituary by Imran Vittachi. The Chicago Tribune obituary for Ruth Surgal (September 2004)


Ruth Surgal Obituary by Monifa Thomas. The Chicago Sun-Times obituary for Ruth Surgal (September 2004)


Can I Speak to Jane? By Jessica and Carmen. A paper originally written for the Chicago Metro History Fair by two Chicago grade school students.(Spring 2002)



Jane By Dana Simpson. A paper originally written for Dana's Women in History class at Oak Park River-Forest High School.(January 2001)



New Texas 'Janes' Mark Roe v. Wade Anniversary By Nancy Schaadt. Nancy is a correspondent for Women's ENews where this article first appeared. We urge you to visit this excellent news site. (January 21, 2001)



Feminist politics and abortion in the USA By Judith Arcana and members of a London audience. A discussion of abortion history and present realities by a former Jane member. (1999)