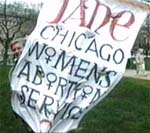 Abortion Stories from Jane
The women of Jane had some pretty amazing stories to tell.
Besides the stories in text form, we also have video and audio taken from Jane: An Abortion Service. We urge you to buy a copy of this very moving documentary. It is available through our Feminist Marketplace.

Text


Organizing a Clandestine Abortion Network by Ruth Surgal



On the Job with Jane by Jeanne Galatzer-Levy



Something Real: Jane and Me. Memories and Exhortations of a Feminist Ex-Abortionist by Linnea Johnson



Writings on Abortion by Judith Arcana
Audio and Video

You will need Quicktime 3.0 or above and a Pentium or Power Macintosh computer. You may download Quicktime here.



Heather Booth talks about the beginnings of Jane 01:53
(Quicktime video-2.9 megs)



Judith Arcana tells how she got involved 01:19
(Quicktime video-2.1 megs)



Jane volunteers tell how women received their abortions 04:14
(Quicktime video-6.5 megs)



Jane volunteers tell why they began to do the abortions themselves (Quicktime audio) 04:49